Monday was our last day of riding. Whilst my original plan was to do a longer 500km coastal loop from Portland to Seattle in order to do some final exploring (and to prolong the riding a little more), both Max and I woke in the morning feeling lethargic and made the decision to simply press on to Seattle in the most expedient manner.  It was a short ride from Portland to Seattle where we are spending the next 4 nights at a hotel just off the waterfront. We need to start the admin process of getting everything cleaned and putting the bike into storage for the next year or two or however long until I come back to collect her and continue the journey. We will also use the time to explore a little and to close off our journey.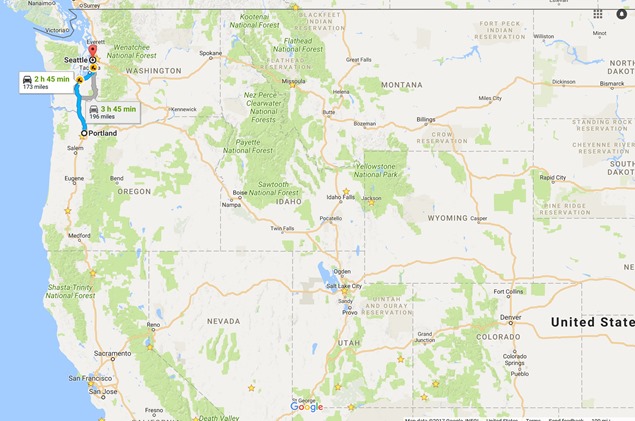 Our short and final ride for this trip…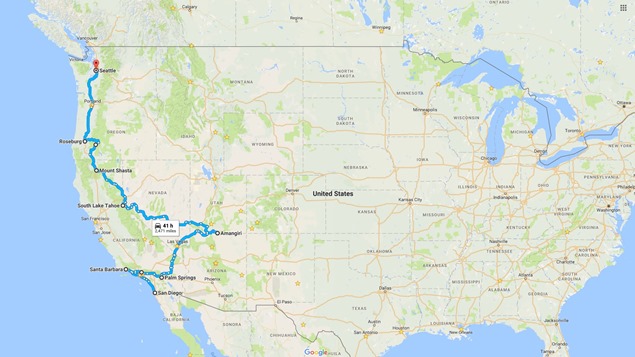 Our Total ride over the last 3 weeks..
Seattle is a truly beautiful city. An eclectic mix of old and new mixed amongst some incredibly dramatic nature, artsy architecture, colourful characters and an interesting history. The weather however is on par with London from what I understand although we have been lucky thus far and have experienced, warm, clear sunny days. Because we so enjoyed touring Portland by Segway a few days ago, we thought it would be a nice way to explore Seattle too so on Tuesday we headed off to find who does it and then spent the next 2 hours racing around to see the sights whilst enjoying the mobility of the Segway's. The day was capped off with dinner at the Hard Rock café followed by probably the worst movie we have ever seen (the latest iteration of planet of the apes), so much so that we left half way through.
Some beautiful Seattle sights…
Wednesday was the day that the bike finally went into storage. The guys at Tempus detailing did an incredible job of getting the old girl cleaned up and ready for her long hibernation and highly recommend them to anybody looking for this service. This is the first time that the bike will be going into a storage unit. To date I have housed her with friends so I'm hoping that I wont next see my old girl on an episode of "auction hunters" or "storage wars"!! Max and I (co-incidentally) found ourselves right nearby a Go Kart racing circuit after dropping the bike so found it essential to go and experience the Seattle version of our current favourite pastime!! We had dinner with my old friends Bert and Margaret whom we met in Alaska in 2013 and with whom I stayed with back in 2015 when I did the trip from New York to San Diego. As always it is wonderful to spend time with these two warm and wonderful people and always leave wishing that we lived closer.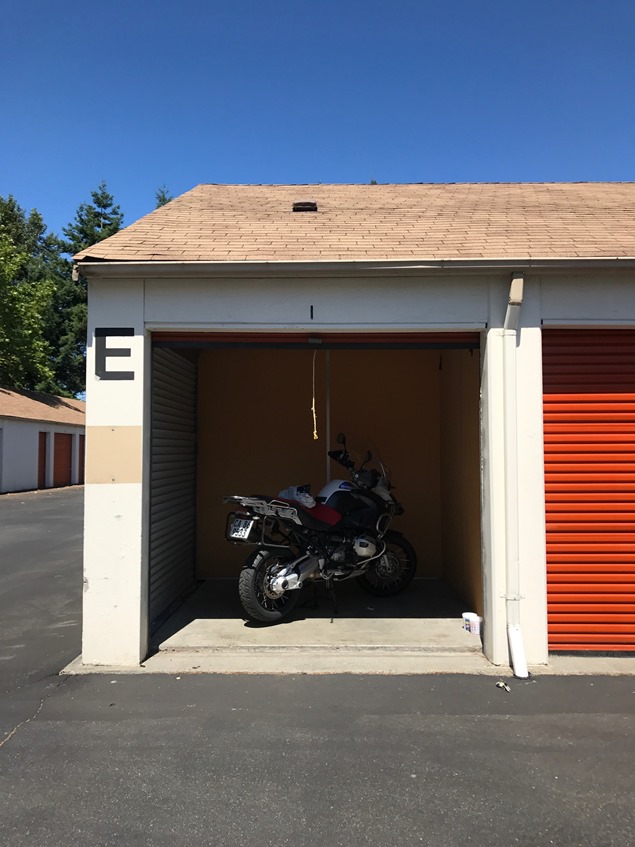 Tucked away in her new home for the next couple of years..
Both Max and I have a feeling of sadness and apprehension as is common when finishing a trip like this, particularly when one has been on a bike as it entrenches such a sense of freedom and that anything is possible. Tonight we start the homeward trek. 11 hours for me, and a mammoth 24 hour stint for Max to get back to CT. I am going to miss this time with my boy. We have already started discussing the next trip, when it will happen and where we will head to. As far as I am concerned, it cant come soon enough.
Thank you for following us for the last 3 weeks.
Rui and Max Nobre
Seattle, USA
20 July 2017