We were up early today to take advantage of sightseeing Portland. We are only here for one day and being a Sunday means that we have been able to get in quite a lot. We started the day with breakfast followed by a 2 hour Segway tour which was fantastic. Max and I both have mildly competitive streaks and seeing as it was just us and the tour guide we spent most of the morning showing the tour guide around as she struggled to keep up with us racing around the empty streets of Portland. Great fun!! For Max and I anyway.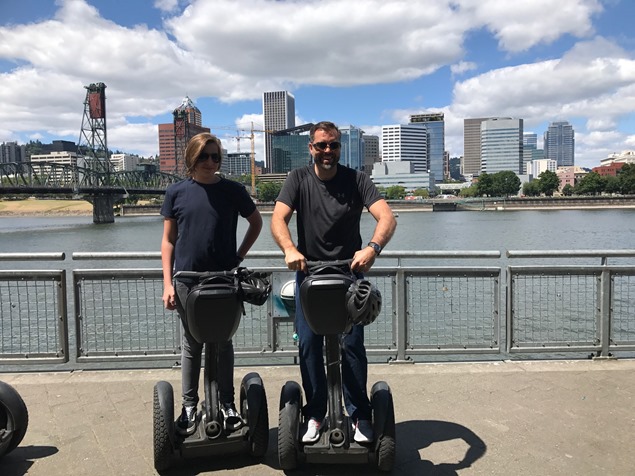 My boy and I on our racing Segway's. The tour guide was so relieved when it was over.
We left the Segway's and headed across town to partake in a game called "escape games" where Max and I were locked in a room and had to follow a host of clues to find keys and codes to various locks and doors. We thought it would be fun and it was for a while but the lack of wheels and motor meant that we got bored quickly and were relieved when the hour was up and we got out of there. We headed for the closest Go Kart racing track after that and spent the evening in petrol head heaven followed by dinner at our favourite restaurant, Yard House. A great day in Portland!