Max and I have been getting up at 05h30 most mornings. I would like to say that this is a product of a healthy and vigorous life but no, its still the effects of the Jetlag! Be it as it may, we are up, I am doing some work, and we are walking in the sunrise, and having early breakfasts thus enabling us to take full advantage of the forthcoming day.
Today, I took a short ride from Santa Monica to Malibu to meet the famous artist Christian Vincent as I am looking at purchasing one of his pieces for our London home. Fascinating man, incredible talent and a lovely human being. The ride up the Pacific Coast highway is one of the most beautiful rides in the Americas. The weather was cool, windless and the traffic at 8:30am on this public holiday was light enough to enable a smooth and fast ride which added to the pleasure of riding up this coastal road.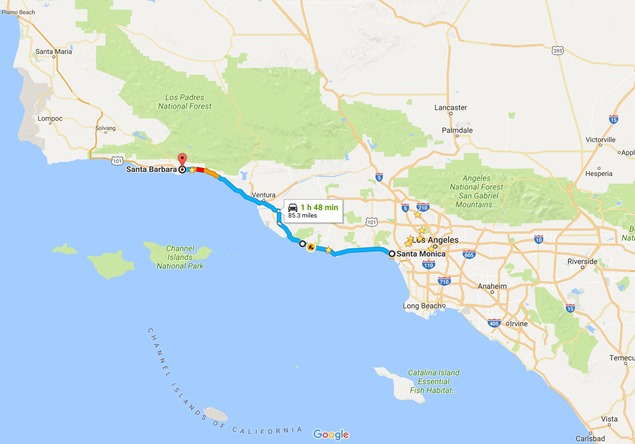 Our ride today up the PCH…
Todays ride was a short one up to Santa Barbara. I fetched Max, packed the bike and then backtracked again up the PCH up to Santa Barbara. We got in at lunchtime, checked into the beautiful Four Seasons resort and then relaxed with some lunch, a walk along the beach and an uneventful day. Dinner was on the beach watching the 4th of July fireworks.
A relaxing lunch and chilled afternoon with my boy…