Much Excitement as today was the first day of our ride.
We unpacked all of the stuff that I had left packed in the panniers in 2015, discarded the things that were no longer required and packed leanly to ensure that we only took the things we needed as space is obviously at a premium!! Max doesn't know what it means to "pack lightly" so the Fat Girl is perhaps heftier than she usually is. Add to this 2 not insubstantial males and my poor BMW is in for a cumbersome 3 weeks!!
The route today is a short, 2 hour ride from San Diego to Santa Monica in Los Angeles where we will be spending 2 nights on the beach.
The weather was cool and overcast, perfect riding weather until we hit the famed LA traffic to navigate for the last half hour. One would think that being a Sunday, this wouldn't be the case but it looked and felt like any other Monday Morning!
We are staying at a great hotel called Shutters on the beach with views onto the sand, sea and famed Santa Monica Pier. The rest of our day was spent exploring, having an early dinner followed by a movie before bed.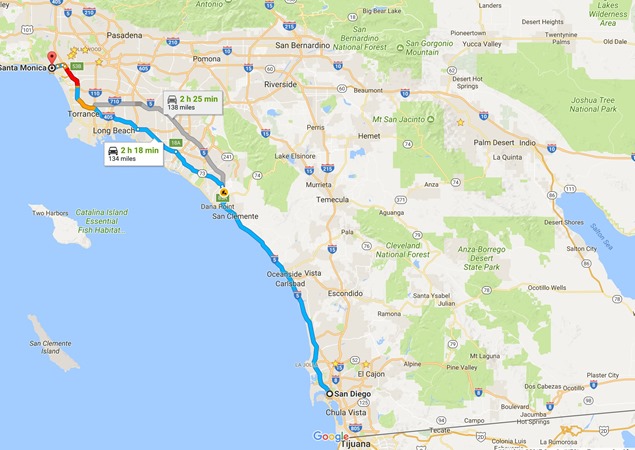 Our 2 hour ride up the coast today.