When I drew the curtains this morning at 6am to savour my vista over the Colombian version of Sasolburg it was pouring buckets..literally, so only got out of Barrancabermerja at about 11:30 and 550km to do to get to Santa Marta on roads that are nothing like the N1. Its single lane for the entire national road barring maybe 5km's in total and trucks rule the roost. Without exaggeration I must have passed over 500 trucks today which means that ones average speed is only about 80km/h at best and thankfully I am out of the mountains at the moment or that speed would halve. Needless to say, I don't want to sound like a whiner because I am LOVING every moment of what I am doing and am super grateful for the privilege to be able to do a trip like this at all notwithstanding the minor discomforts and black face which I arrive at my destination with every day because of the diesel fumes!!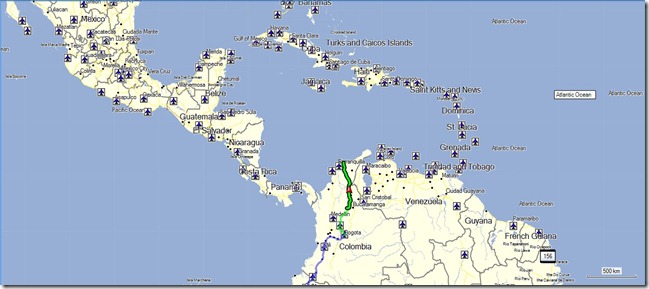 My 550km ride today…
Although I spent the entire day in the coastal plain / valley between the tail end of the Andes mountains where it is sweltering, the terrain remains awesomely beautiful and changes from forest to Jungle to Savannah to something EXACTLY like the Caprivi strip in Namibia and then lush coastal jungle as one approaches the Caribbean sea.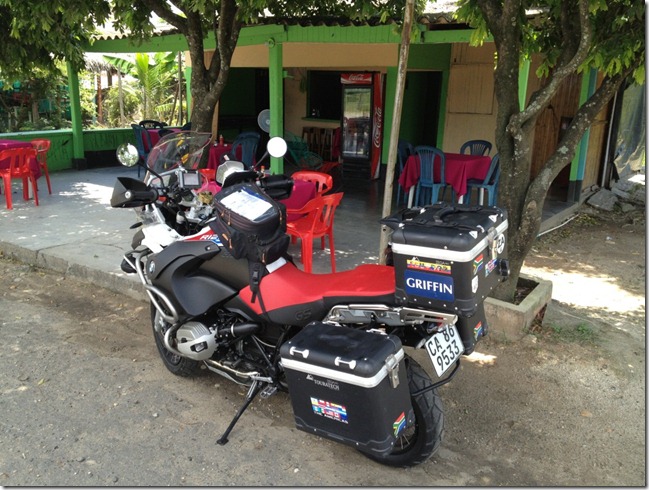 Lunch stop! The big girl looking sparkly clean after her service in Bogota..new tyres, brakes, the works!!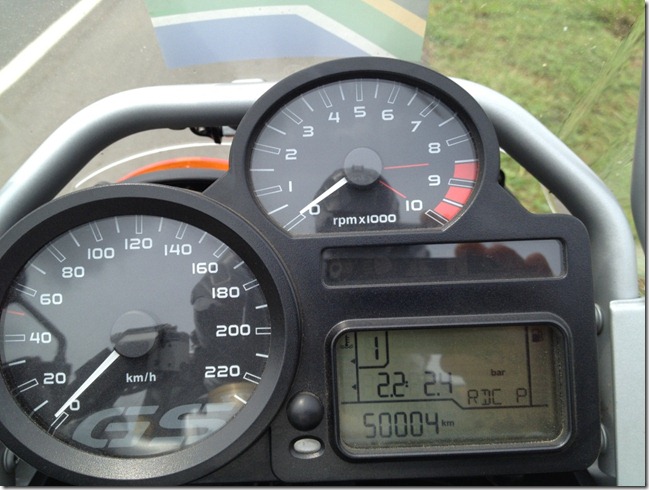 And…she turned 50,000 today!!
Today was the first time in my entire trip through South America where I was stopped by the police and at which time I was hammering down a long straight stretch devoid of trucks and doing about 160km/h! Expecting the worst, I put on my most charming Portospanglish and proceeded to tell them all about the trip, their beautiful country and how gorgeous the Colombian woman are…5 minutes of banter, passport and bike paper scrutinising and me pretending not to understand the bribe gestures they laughingly waved me on my way without any fines or bribe money!! Bonus!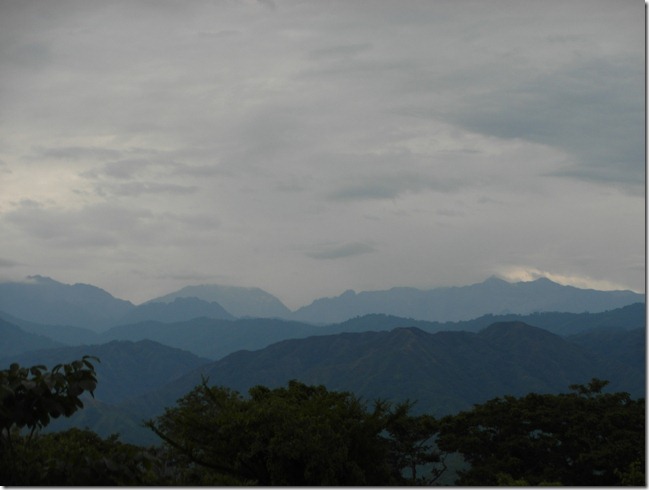 The tail end of the Andes about 100km from Santa Marta…
I got into Santa Marta at sunset and made a beeline for a small, simple but cute looking beachfront hotel I found on booking.com called La Sierra which has turned out to be great. Beautiful sea views from my room and an Umhlanga Rocks type vibe but with a busy seaside promenade that goes on late into the night/morning.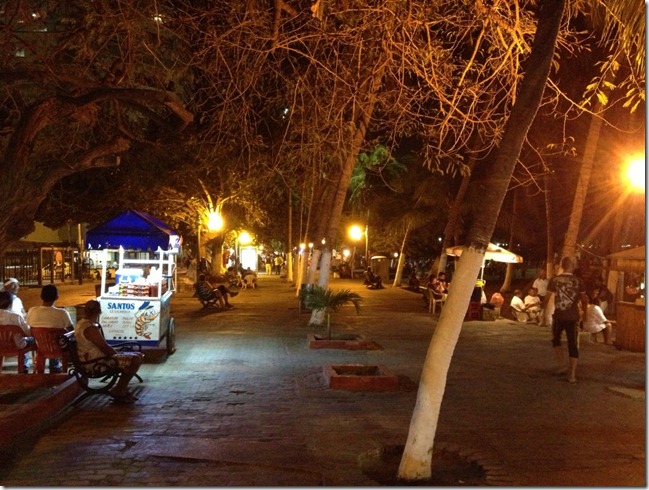 10:30pm on an arbitrary Wednesday evening promenade activity including live music!!
I mentioned yesterday I would spend 2 nights if it was nice and I have decided that I will do so, not only because I am enjoying the slowed down pace of this leg but also because I am killing a little bit of time!
There are 2 ways of getting from Colombia into Panama in Central America. Fly or float! That's it! There is no road connection because the 2 countries are separated by a jungle swampland called the Darien Gap that is impassable, inhabited by Guerrillas and the kinds of things that eat people brave enough to try and cross! The Panamanian government will purposefully not build a road to connect the 2 countries because they don't want to create another route for drug smugglers to enter into central and north America, so what to do?!   I am of the opinion that flying the bike from one of the big Colombian cities to Panama city is a cheat to the "overland" concept and I have therefore (perhaps in a moment of madness) selected the "float" option, come hell or high water…no pun intended!! There is unfortunately also no commercial ferries, I assume for the same reasons as stated above although there have been a number of false starts at trying to get one up and running!
When researching the internet for boats that do this 4 night, 5 day crossing between Cartagena and one of the various small ports on the Caribbean Panamanian coast, and more specifically boats that can accommodate the bike, one encounters hundreds of horror stories..captains that are drug addicts and alcoholics, boats that capsize and sink (with bikes on board), overcrowding, running out of food and water by day 3, getting robbed in the middle of the sea and being dumped overboard etc etc etc…it almost makes for a comedy if it weren't so bloody sad! Anyway, after hundreds of hours of research, I seem to have found what looks to be an ethical and above board operation with many independent reviews on various blogs about this small sailing company that consists of 5 or 6 boats called www.colombiapanamasailing.com and they are able to take me and bike and I have even been able to book a "king size bed"! (stay tuned!) The boat (the good Catamaran "Jacqueline") is however only scheduled to leave Cartagena on the 25th which is the other reason for killing time! The last time I encountered something akin to this was in northern Sudan in 2010 although I would take the Colombian option ANYDAY!!! Famous last words??? Perhaps! I will keep you posted!!!