Left Atbara at 6.15am as planned to tackle this middle of the desert run. There is a new tar road that connects Atbara and Karima and because the surrounds are almost entirely uninhabited it is possible to do this 350km stretch at 120km/h meaning that we got to Karima by 9.30am. The wind on this road picks up dramatically at about 8am and notwithstanding the direction of the road, the wind ALWAYS comes at you at a 90° angle (meaning that you ride at a 45° angle just to keep going straight to counter the wind) and at times creates a sandstorm so thick you cant see 50m ahead. Note to other travellers on this road..The ride itself is pretty uneventful but there are no fuel stations along this stretch so make sure you are full before tackling it.
We are spending the night at the Nubian guest house in Karima which is a step up (and down) from "guest house" in Atbara of last night. Up, because it is Italian owned and managed, clean, neat, comfortable with food and water available. Down because notwithstanding the expensive $150/night rate, there are no air conditioners or ceiling fans to make the heat bearable. At 1pm, it was 50C and even the cold water coming out of the shower felt like it had just been boiled. there is just no escaping this heat!!!
At about 5pm when the heat had subsided to 40C we decided to take a walk up Jebel Barkal (the nearby holy mountain that was considered the home of the God Amun ( the Ram God) by the Ancient Egyptians). The views from the top of the surrounding pyramids, temple ruins, the Nile and the thousands of date plantations that run alongside the river are magnificent to see.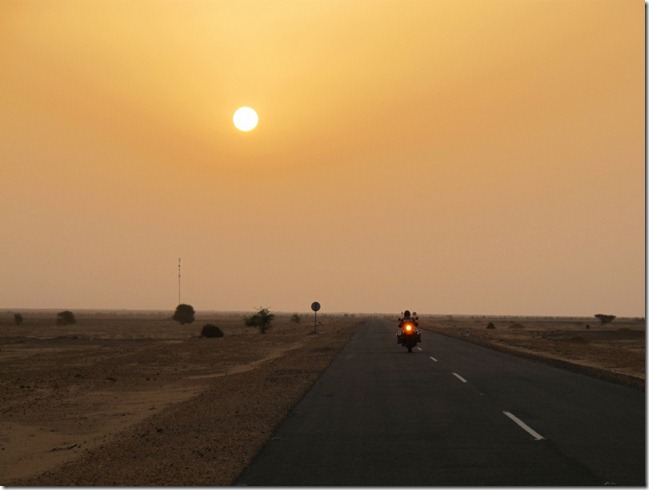 Early morning run to Karima.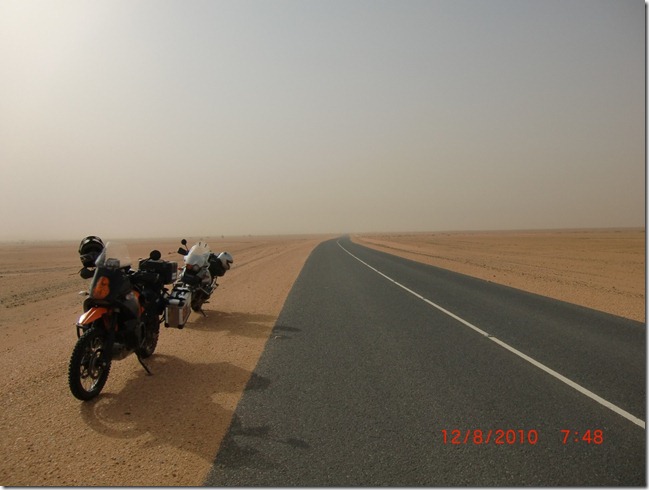 Miles and miles of nothing but desert.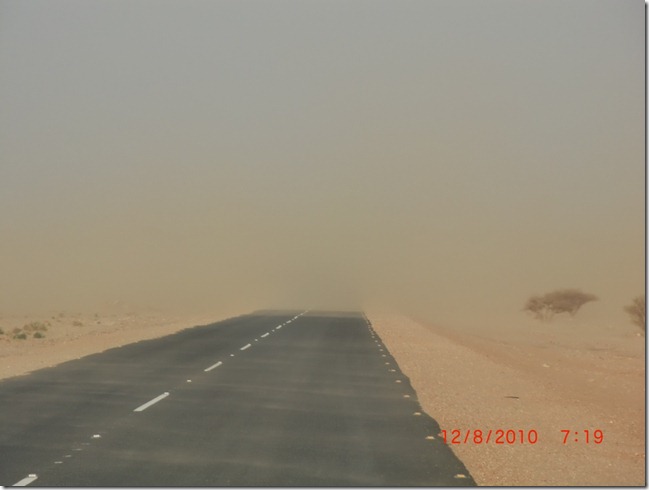 …and the occasional sandstorm.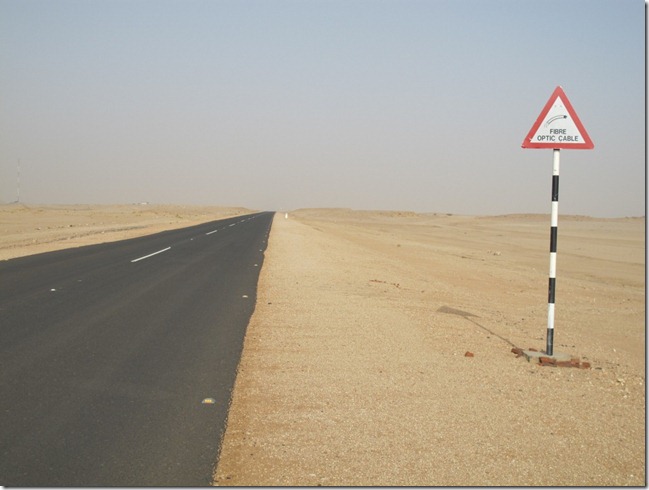 I have no idea why this would be a road sign!!??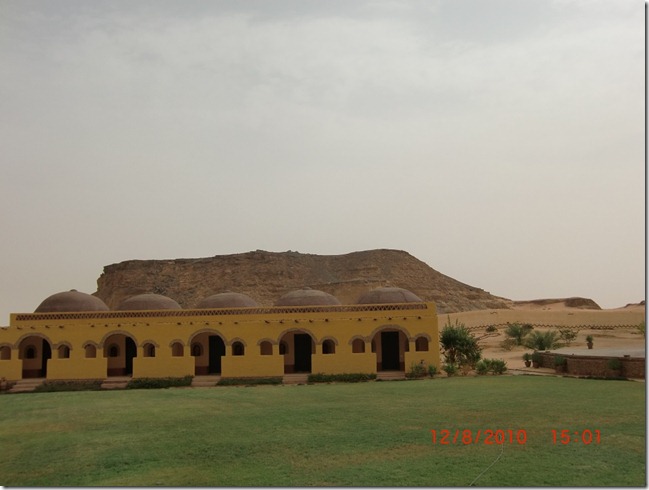 Nubian guest house in Karima with Jebel Barkal in the background.
Pyramids of Karima as seen from the top of Jebel Barkel.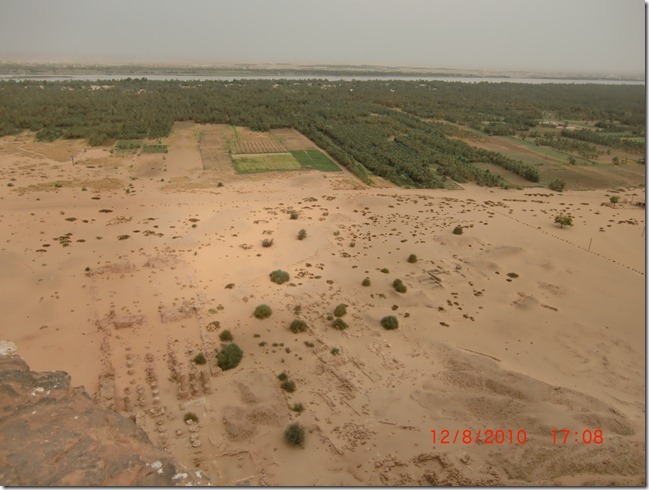 Ruins of the Temple of Amun and date plantations along the Nile as seen from the top of Jebel Barkel.
At the top of Jebel Barkel.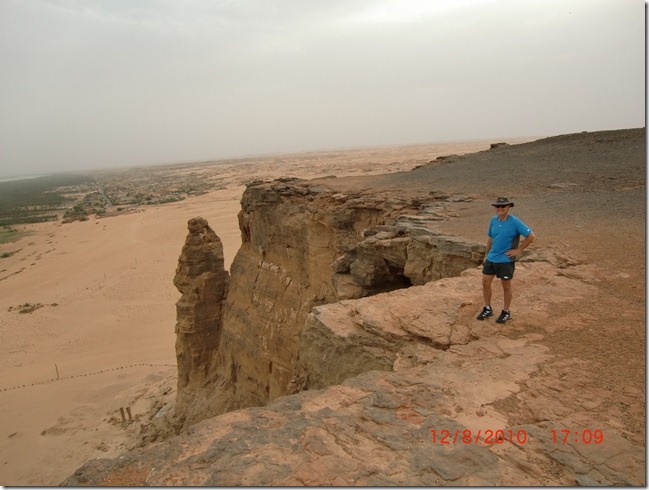 At the top of Jebel Barkel.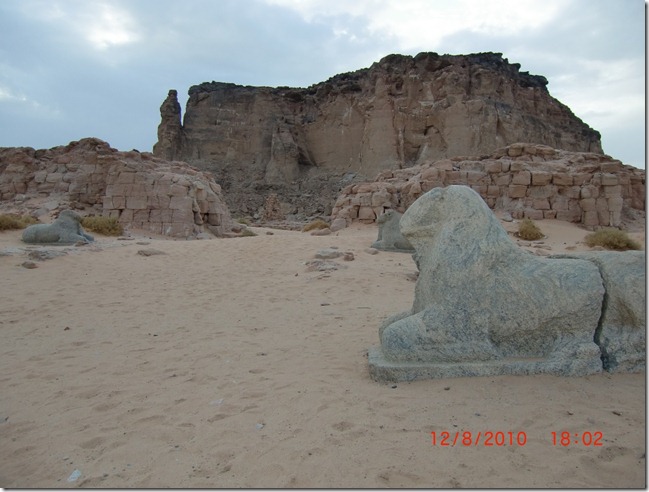 The temple of Amun with a row of Rams marking the entrance.